Elevate Your Gym Experience with Premium
Gym Flooring Mats

by Rubbertiles.ae
Turn to Rubbertiles.ae for Gym Flooring Mats that redefine your exercise environment when you want to upgrade your gym. Our mats offer unrivalled quality, toughness, and appeal to improve your workout experience.
See how our Gym Floor Mats can turn your training space into a paradise for fitness fans. Feel the difference with mats that not only give your exercises a sturdy and secure surface but also improve the atmosphere of your gym overall, creating the ideal environment for excellent workouts and member satisfaction.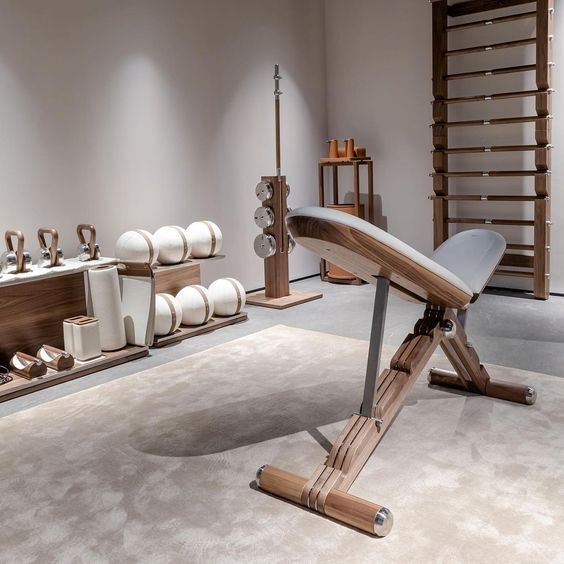 Gym Flooring Mats

Crafted for Performance and Style
Gym Floor Mats Dubai provides the ideal fusion of performance and elegance. Our mats are expertly made to not only survive the most demanding exercises but also improve the aesthetics of your gym.
See how our Gym Flooring Mats can help you design a beautiful and useful workout area that will wow both your clients and members. With a variety of design choices, you may select mats that go with your logo, foster a positive environment, and make each visit to your gym special.
 injury. Interlocking foam mats, on the other hand, offer a softer and more cushioned surface, making them ideal for activities such as yoga and Pilates. Additionally, these mats are easy to install and can be easily replaced if damaged. Whether you opt for rubber or foam mats, investing in high-quality gym flooring mats in Dubai will ensure a safe and comfortable workout environment that will last for years to come.
Gym Flooring Mats

- Where Safety Meets Comfort
Comfort is a luxury; safety is a top priority. You get both with us Gym Flooring Mats. Our mats include cutting-edge slide resistance technology, offering a secure exercise space for your clientele. In order to ensure that your flooring not only functions well but also improves the entire experience for your members, our knowledgeable team is committed to assisting you in finding the perfect Gym Flooring Mats that complement your gym's activities.
At the same time, the exceptional cushioning offers unrivalled comfort during your activities, minimizing tiredness and enabling longer, more fruitful workouts. Your customers will value the extra security and comfort our Gym Flooring Mats offer, boosting their whole gym experience and assisting them in confidently achieving their exercise objectives.
Feel Free To
Contact Us For Query
Hassle-Free
Gym Flooring Mats

Installation and Maintenance.
Say goodbye to frustrating installation and time-consuming maintenance. Whether you select roll-out mats or interlocking tiles for your flooring, flooring mats are designed for simple installation. They are also easy to clean and resistant to spills, stains, and smells so you can concentrate on your exercise regimen without worrying about time-consuming maintenance. 
Since we know how essential your time is, we've designed our mats to save you time and effort so you can focus on what really matters: helping your customers achieve their fitness goals and expanding your gym.
Customize Your Gym's Aesthetic with
Gym Flooring Mats
The aesthetics of your gym matter. You have the ability to personalise the look of your gym. Gym Flooring Mats to showcase your own vision and corporate identity. Our mats come in a variety of hues and patterns, allowing you to establish a distinctive and welcoming workout area that appeals to your target audience. We provide a wide selection of Gym Flooring Mats crafted to meet your unique needs. Our products are made to perfectly match your specific demands, whether you want heavy-duty mats for weightlifting or shock-absorbing mats for cardio zones. 
Our rubber gym mats for sale are adaptable enough to suit any design concept, whether you want a traditional style or want to make a dramatic statement. They can help you build a gym that not only amazes but also inspires members to achieve their fitness objectives.
Maintaining gym floor mats is essential to ensure their longevity and cleanliness. One important step is to regularly remove any loose dirt or debris by sweeping or vacuuming the mats. This helps prevent the accumulation of dirt and dust particles that can affect the mat's performance and hygiene. 
Mats play a crucial role in gym settings for a variety of reasons. First and foremost, they provide a safe and comfortable surface for various exercises and activities. 
The most popular thickness for commercial and home gym flooring nowadays is 8mm. To be safe, you need at least a half-inch or more if you plan to carry heavy objects (such as during Olympic lifting or Cross Fit).
They are not only long-lasting and simple to clean, but they also come in a range of hues and designs to go with any decor. Rubber floor mats must be regularly cleaned and maintained, though, just like everything else, to keep them looking brand new.
Why Choose Rubbertiles.ae for Your
Gym Flooring Mats?
Rubbertiles.ae is a leading provider of high-quality Gym Flooring Mats, offering exceptional durability and lifespan through rigorous quality control inspections. Their experienced team provides specialized advice to help customers choose the ideal mats for their unique requirements. 
With competitive pricing, they ensure customers buy gym floor mats for their investment, making premium gym flooring accessible to all organizations. Timely delivery is a priority to avoid disruptions to gym operations. 
Additionally, their customer-centric approach prioritizes excellent service from selection to delivery, ensuring customer satisfaction. By combining performance, style, and customer satisfaction, Our Gym Flooring Mats can transform any gym into a premier fitness center that prioritizes its customers' comfort and success.